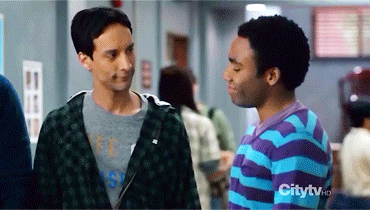 This year it's time to celebrate love in all its forms, including PLATONIC love! Hooray for friendship! My friends and I will be celebrating Galentines (the celebration of female friendships) and you can expect a list later this week to commemorate the event. So to be fair, I decided first to do a post celebrating nine of the finest bromances in film (and one epic one from television I had to include.) Look over the list and let me know who is your favorite bromance.
EDIT: D'OH! I left off Doc & Marty from Back to the Future. They'd totally be here too. So remember them in spirit.
LUKE SKYWALKER AND HAN SOLO -
I couldn't write this list without my personal favorite. We all love the banter between Han and Leia, but this "love" story might be even better. They love to one up each other, but it's all fun and games. In their most crucial moments, each one always has the other's back. You don't go out after someone in below freezing temperatures if you don't love them!
FRODO BAGGINS AND SAMWISE GAMGEE -
All of middle earth would be destroyed and enslaved if it weren't for this bromance. Sam is a true friend and his actions in continually saving his BFF Frodo, are among the most heroic in the entire story. Frodo is certainly lucky to have Sam and he knows it. Honestly, their scenes get me every time.
CAPTAIN KIRK AND MR. SPOCK -
Logic vs. emotion. These two men couldn't be more different and yet together compliment each other during their missions in an incredibly perfect way. They recognize that each can see things in a way that the other can't, and though they may butt heads from time to time, they know each other's opinions are invaluable.

PETER KLAVEN AND SYDNEY FIFE -
You want bromance? This movie pretty much defines the word. The whole movie's plot is dedicated to the idea of man dating...and it's fabulous. Peter and Sydney are total opposites but through their time together, each helps the other become a little better. Only the most powerful relationships lead people to watching Chocolat.
HARRY POTTER AND RON WEASLEY -
Here's a bromance made up almost entirely of one person being jealous of the other. But hey, at least he's really loyal in his jealousy. But for nostalgia sake they've been BFF's since they were 11 and most of the time have each other's back (unless Ron is throwing a fit over something.)
HARRY DUNNE AND LLOYD CHRISTMAS -
These two idiot friends were simply made for each other. Sometimes people are just meant to find one another and these two are kindred spirits who were probably destined to be platonic life partners. Together they can bumble around through life and be the dummies they were meant to be.
TROY BARNES AND ABED NADIR -
This tv bromance may, in fact, be the most epic of them all! When talking about
Community
you almost can't even say the name Troy without following up with "and Abed in the morning!" From their handshakes to their in-jokes.....everything about these two is pure magic. And [SPOILER]
Troy leaving and breaking up this bromance indefinitely has to be one of the saddest things I've ever witnessed on television.
[/SPOILER] Luckily these two seem to make it through every obstacle that's thrown at them. They'll last forever.
BUZZ AND WOODY -
Hooray for the single greatest animated bromance of all time. Buzz and Woody have gone through a lot together. Though they began as rivals we have learned through the series that they've got a friend in each other. Though they both have their gal pals, let's be honest....they're still probably the most important person in each other's toy lives.
ANDY DUFRESNE AND RED -
A good majority of
The Shawshank Redemption
is Andy and Red talking about how much they deeply admire the other. They support each other during some of the hardest moments of their collective lives and give each other hope that someday their life can be given a new chance. If it weren't for the other, [SPOILER]
neither would have been able to leave the prison or truly live after doing so.
[/SPOILER]
DEREK ZOOLANDER AND HANSEL -
Like
Dumb & Dumber
here we have two idiots who found one another. This time they're both incredibly vain male models who first must let go of their intense rivalry to discover how similar they really are. Once they do, they'll realize how great friendship can be with someone who is exactly like you are.
HONORABLE MENTIONS:
Butch Cassidy & The Sundance Kid, Sherlock Holmes & Dr. Watson, Batman & Alfred, Batman & Robin.
Vote on your favorite below! And if I overlooked anyone, tell me in the comments!
Which is the best bromance of all time?